Engineering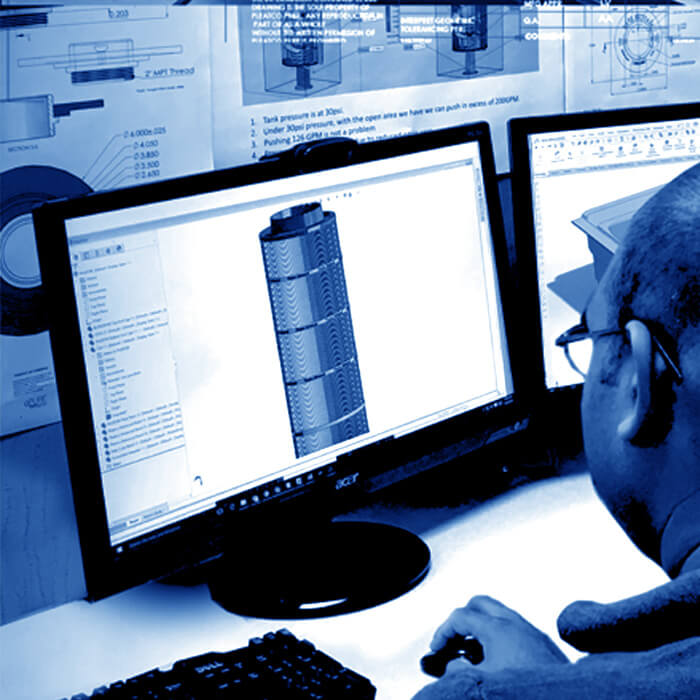 The birth of a great filter cartridge starts with our Pleatco Applied engineering team who have advanced training and experience in specific disciplines (industrial, mechanical, electrical, micro-biological). Our team is primarily focused on developing the next generation of advanced products in partnership with the industry's leading OEM's.

Pleatco Applied is our specialized innovations division that combines our manufacturing, operations, sales and marketing teams to offer holistic end-to-end service. Seeking out new ideas on how to make the air we breathe better for all is a never ending journey for our team.

The process starts with our engineering team utilizing their combined design expertise to develop and customize every aspect of the new product.

Engineering / 3D Modeling - This allows our team to test and validate a design for a specific application.

CFD - Computational flow dynamics Sophisticated software emulates air flow and dirt capturing performance to optimize and refine the new design, while testing against competitive products.

Physical prototyping - An exact prototype is created in the same environment that the final product will be manufactured, allowing our experts to simulate all production conditions from start to finish including quality and cost analysis.

Network of industry field testers - Pleatco also uses it's own extensive network of industry professionals around the country to test performance in 'real-life' environments. This provides third party validation of design, product usability and performance.