Introducing Replacements for Oval Filters
Pleatco proudly introduces oval filter elements as replacement filter for your Donaldson Downflo Oval Dust Collector. Pleatco's new oval replacements are available in CelluBlend or Nanobond media offering you quality and performance based on your application. Media options include: CelluBlend, Nanobond, FR Fire Retardent, Spunbond. Pleatco now offers Nanobond filter media with its unique technology offering key benefits of higher efficiency, lower pressure drop, longer filter life and greater energy savings. Pleatco's selection of high-quality blended base media and consistent Nanobond fibers has created a durable product which not only withstands rigorous pulse-cleaning but also offers extended filter life, lower operational costs and Merv 15 operational efficiency. Pleatco's Nanobond- Oval elements feature nanofibers that are 50% finer than OEM and a MERV 15 efficiency rating, the industry's highest. Nanobond technology in your dust collectors means superior filtration efficiency on sub-micron particulate (0.3 to 1.0 micron dust particles), lower emissions, longer filter service life and greater energy savings.
Oval Filters
Applications include:
Pleatco Filtration products are specifically designed for industrial applications that include but not limited the following industries.
Oval Filters
Benefits:
Excellent filtration efficiency
Increased air flow with unchanged velocities
Extended filter life
More effective pulse cleaning
Reduced maintenance costs & downtime
Reduced abrasion
Features
Galvanized end caps
Expanded metal or band outer construction
Expanded metal cores
Operating temperature up to 275°F
Media Options
CelluBlend™
Nanobond™
FR Fire Retardent
Spunbond
Need some selection direction?
We work with you
For customer convenience, we stock thousands of popular OEM style filters at our manufacturing facility, which can ship in 24 hours. You can also arrange for our highly trusted private labeling, drop-shipments, and blanket order programs.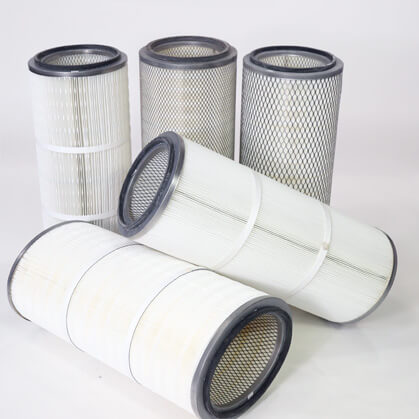 Regardless of size, we provide all our customers with answers to their technical questions, develop workable cost-effective solutions for their filter problems, and provide them with filters from our full range of standard and custom products.
Just looking for a replacement?
Find a filter
We are an industry leading design and manufacture of replacement cartridge filters, pleated bags and fabric filters, specifically designed for OEM dust collectors, bathhouses and dry process systems. Many are same day shipping and thousands in stock!